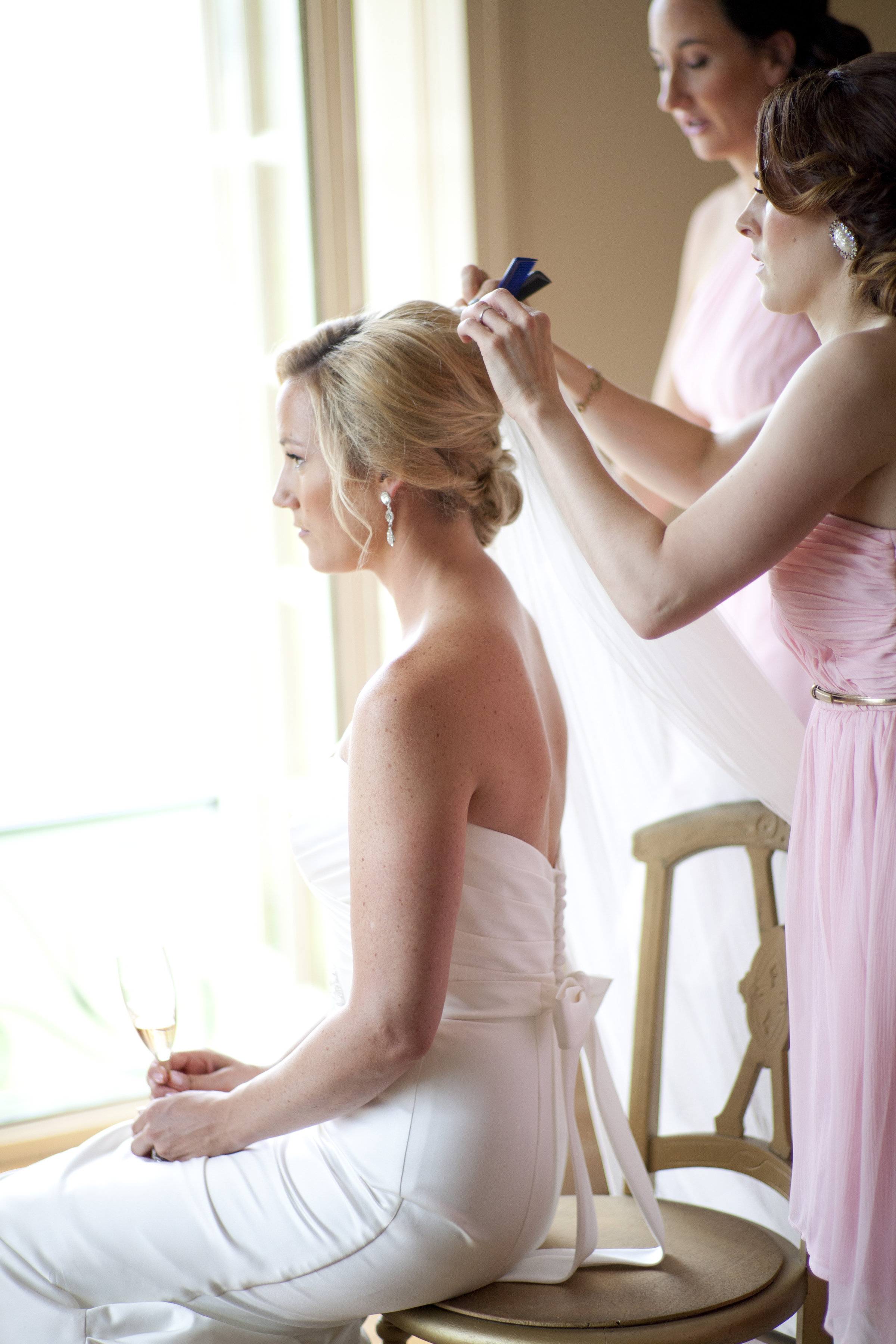 Your bridal trial is all about helping your day-of artist create a flattering and custom look for you, so don't get nervous about it…get prepared. Use this one-on-one time in a no-stress environment to choose what looks best on you. Here's a list of what you should bring the day of the trial to make sure you get the most out of it.
A photo of your wedding dress. (We LOVE seeing your  style!)
Bring 1-3 of your favorite hair inspiration photos all on one page. This makes it easy to compare them all next to each other and narrow these options down. No need to show up with tons of photos, it only makes the process more difficult! Look at what you like about each photo and what you don't. Do you want a part? Do you want height? Are you going for a sleek look? Also, keep your hair color in mind when choosing updo inspiration. The dimension in blonde hair showcases all the twists, turns and braids in an updo. So if you are brunette it will look a little different in your hair.
Bring 1-3 photos of your makeup inspiration all on one page. Try to bring in photos of people that look like you. For instance if you have blonde hair and blue eyes try to bring in someone with that coloring. Real world brides or non-supermodel inspiration often works best, you want to always remember that makeup looks different on different people, so be flexible and let your makeup artist work to help you customize your inspiration.

Bring your hair accessory, earrings and veil if you have them.

 (No need to stress if you don't!)
Wear a shirt that mimics the neckline of your dress. 
Please arrive with clean dry hair 
One last parting tip? Be honest and open minded while you're trying out different looks. This isn't the day of, so you've got plenty of time to see if you like it and make sure it's just right for you!
Since we do not do any trials on the weekends because of our wedding schedule, we will figure out a time during the week that works for you. If you need to pick up your marriage license, the day of your trial is a perfect way to get both things done at once if you're already taking the time off. Or you can book it the day of your engagement shoot so you can use your already done hair and makeup.